Mission to Lars
Published May 5, 2013
Mr C rented the documentary Mission to Lars from iTunes, and settled down to watch it one evening. I sat, aloofly, browsing magazines on my iPad, mostly ignoring the TV. I've never managed to get into documentary films - for whatever reason they fail to grab my attention when it comes to trailers and thus I never really get round to giving them a go. The only documentary I can remember watching is Super Size Me, which did stay with me for a bit.
As my knowledge and passion for film-land grows, my tastes vary and I was intrigued by this Mission to Lars film. I consented to be in the room as Mr C watched it, but I wasn't intending to participate too much.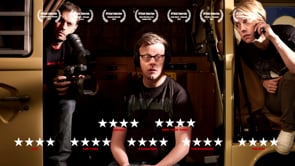 Well, needless to say, I got totally sucked in. At first, I was just throwing out flippant comments here and there, then I casually put the iPad down, and then I was fully engrossed.
The film follows the efforts of a brother Will (producer/cameraman) and sister Kate (journalist) to track down Metallica and get their Fragile X suffering brother, Tom, to meet his idol - drummer Lars. I don't know Metallica, I've never heard of Lars, but the mission grabbed my attention and didn't let it go. At first, I was upset with how the siblings were treating their brother - as someone who has struggled with things that "normal" people find easy, I could (to a very minor level) relate. But gradually their methods started to gain results, and even if they went about it seemingly the wrong way, the end made up for the journey.
There was a brief moment where they visit a Fragile X specialist, and I thought it was going to take a disappointing educational turn (not that learning is bad but it wouldn't have fit with the rest of the film). It wasn't like that though, the siblings really listened, they learned how to embrace what issues Tom faces and how they can work through them to enjoy the mission more. Seeing them implement the methods - bigger ear defenders, giving him a task to do - it was wonderful.
Major spoiler alert coming up, they get to meet Lars. It would be a pretty depressing film if they didn't. I assumed they would, and figured they would get to shake hands, Lars would sign a poster or something, and they'd watch the concert from good seats. I was not prepared for how incredible Lars was to this über-fan. How generous he was with his time, with his drums, and just how far they went for Tom, letting him walk the terrifying but awesome path to the stage with them, from where they enjoyed the gig - as close as you can get without actually being part of the band.
I cried.
I never cry at films. I can count on one hand the number of things I've seen on screen that have moved me to tears, but this was one of them.
The film was raw and crunchy, the audio was spotty, and it was honest to the point of painting Kate and Will in a bad light, bed-head and all. But it was brilliant, uplifting, a real family portrait of the niggles and successes such a mission is bound to encounter.
I still don't know who Metallica are, but Lars, he's a hero.