The arcade made out of cardboard
Published April 14, 2012
If you haven't heard about Caine's Arcade and haven't already seen the video, then you must watch this.
I found it a bit slow starting but you have to stick with it because a) this boy is a genius and b) people are brilliant.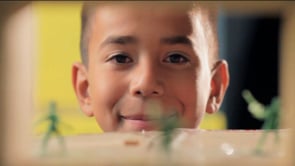 I love the arcade, although I think it could do with a little bit more colour to distinguish one game from another. Then again, this is me - a person unable to open a packet of biscuits sensibly - passing judgement on a boy who figured out a system to verify his Free Pass tickets.
What I think doesn't matter. The public have reached the $100,000 target to send Caine to college. A great future - probably in engineering? - awaits him.
As an aside, I particularly enjoy that Caine's Arcade has had a song specifically written for it, and boy is that stuck in my head.