Charging on the move, the ongoing smartphone problem
Published October 22, 2012
If you've got a smartphone that does all manner of exciting things, you'll know that sometimes you run out of battery before the day is out. When I switched to the iPhone, I was pleasantly surprised by the battery power in the device - it would get me comfortably through the day, and just need a charge up at night. If I was to use it as a camera, though, on a day out, or as a map to find my way to that day out, then the power supply is severely depleted. The lighter socket in my car is intermittently functional, so that charging on the go can be a problem.
That's why I'm very intrigued by this Kickstarter project that was fully funded (and way over, in fact), in which a purse, insert or bag has wireless charging functionality inside. You charge your phone, and when it gets low, utilise the pouch in your bag as a top up. When you get home, you can charge the phone and the purse and be ready to go again the next day.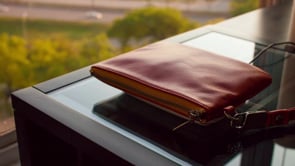 I also really like this super-cool video, which sums up the product in less than ten seconds. I think more marketing should be this quick and simple.